The Marangu Route - 5 or 6 days
Mount Kilimanjaro is the tallest mountain in Africa and the tallest free standing mountain in the world. Kilimanjaro reaches the greatest height at 19,340 feet (5,895 m) at Uhuru Peak. Uhuru is the highest point of Kilimanjaro's three peaks.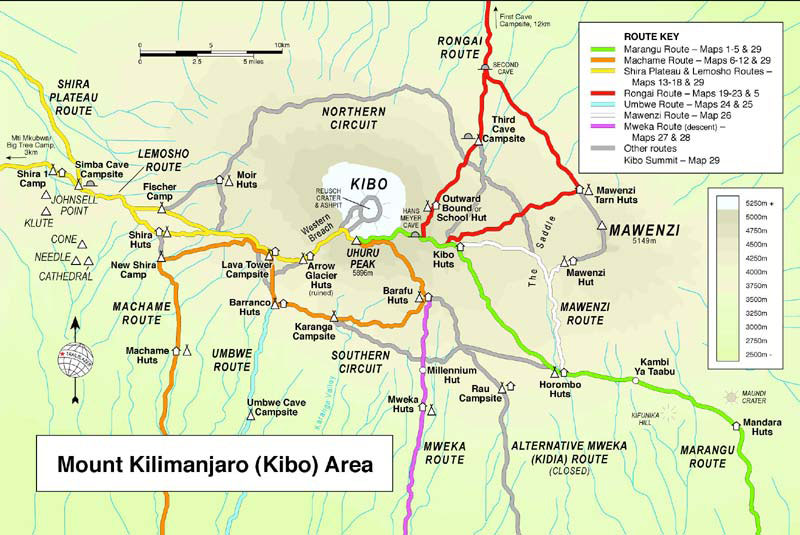 Prices from USD 1580 per person per trip for (5 persons or more).
Day 1: Marangu gate to Mandara hut
We pick you up from your hotel and we go to Marangu gate 1900 meters above sealevel (masl),where the registration process will take place. This will take some time depending on when we get there. (The sooner the better.) After the registration the hike will start where you will go through the Montane rain forest and after 8km you will reach Mandara hut 2700 masl for dinner and
overnight. Full board is included on the whole trip.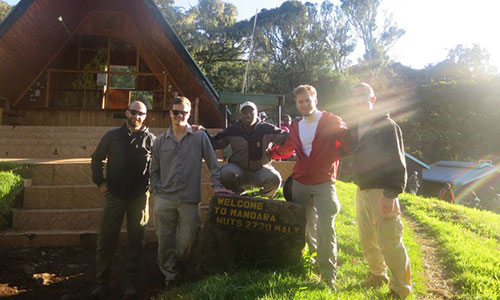 Day 2: Mandara hut to Horombo hut
Early after breakfast you will depart with your mountain guide leaving the other crew members (cooks and porters) to clean up the huts. In one hour you will say goodbye to the forest and get into the second zone of this mountain – moorland/heather zone and if the weather is clear you will get your first really really good look of the twins peaks of Kilimanjaro (Mawenzi and Kibo). We will stop for lunch on the half way and after 12 km we will reach Horombo huts, 3720masl.
Dinner and overnight at Horombo hut.
Day 3: Acclimatization Day
If we do the 6 days climb the third day will be our acclimatization hike by gaining some altitude (an extra 800 masl-1000 masl) and then descend back to the camp for hot lunch. We will spend the rest of the day doing some short hikes. Dinner and overnight at Horombo hut.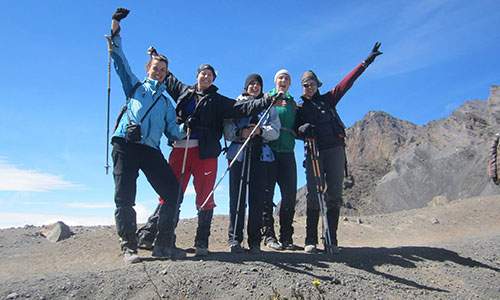 Day 4: Horombo hut to Kibo hut, 4700 masl
But if we do the 5 days climb on the Marangu route it means that we will have to leave Horombo hut early in the morning with our picnic lunch boxes and ascend to Kibo Hut for some rest and preparation for the final ascent.
Dinner will take place early as you will need to go to bed early.
Day 5: Kibo hut to Uhuru Peak to Horombo hut
Day five starts at midnight. We will always give you a day-to-day briefing from the day one and we will always discuss with you about what time to start every day. It will be the same with the final ascent. After waking up ready for the summit you will get a cup of tea or coffee and some snacks. After warming up we will start the ascent to Uhuru peak via Gillmans point. We cross Stella point and once we rich Stella we will need an hour from there to Uhuru peak at 5895 masl.
Mount Kilimanjaro
Your guide will be the one to decide how much time we will need to stay at the summit depending on your health condition.
Once you are ready after the celebration and photos remember you are just half way of the climb!
Now we start the descending hike back to Kibo hut for some fuel and for packing the equipment before heading back to Horombo hut for the final night on the mountain. Here we will have dinner and overnight.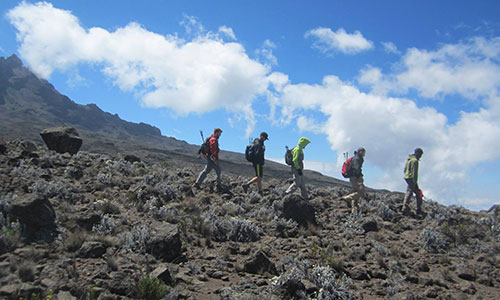 Day 6: Horombo hut to Marangu Gate
Early morning after breakfast you will continue with the descend via Mandara hut all the way to Marangu Gate where we will find our driver guide ready to pick us up and drive you to your hotel for a deserved shower.
Note that if we do the 5 days climb only the different will be skipping the 3rd day,and instead you will go up to Kibo hut on that day and you will summit the same night.
Note also: Unless you are on Marangu Route, accommodation on the mountain will be in TENTS brought up by your porters.
On Marangu Route camping is forbidden and instead people have to sleep in huts along the route (You will only see people camping on this route but they are trekkers who took the Rongai Route to ascend and note that if you ascend through Rongai route you will descend through Marangu Route.
The Sleeping arrangements in these huts are usually dormitory-style,with anything from four to twenty beds per room.