Machame route - 6 or 7 days

This is one of the highly recommended routes climbing Mt Kilimanjaro. The trail on this route passes through some of the mountain's different climate zones including montane rain forest, moorland/heather zone, alpine desert, and arctic zone (the ice cap).
This climb can be done in 6 or 7days. The difference is that in the 7 days climb day 4 is spread out on 2 days. If you have the time this will be less stressing.
Prices from USD 1700 per person per trip for 5 persons or more.
MtKilimanjaro is the tallest mountain in Africa and the tallest free standing mountain in the world. Kilimanjaro reaches the greatest height at 19,340 feet (5,895 m) at Uhuru Peak. Uhuru is the highest point of Kilimanjaro's three peaks.
Day 1: Machame Gate to Machame Hut
Godson will pick you up from your hotel and drive you all the way to Machame Gate (1800 masl = meters over sea level) where you will meet with our crew (porters, guides and the cook). As your Chief Guide, Godson will deal with all the paper work as well as park fees payment (which is included in the price). He will also assist you on the registration. Once everything is done you will start your ascent to Machame Hut (3000 masl).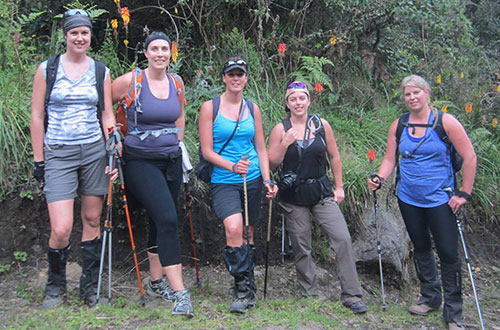 Note, that your Chief Guide will be giving you a briefing every day after dinner about next day's plans. He will also be the one to brief you one day before the climb, and we do go through your mountain gears just to make sure you do have everything in advance.
During the long days we will have lunch on the trail. Some days the hikes are shorter which means that these days we will have hot lunch at the camp.
It is about 11km from Machame gate to Machame hut (diner and overnight at Machame hut (We will be camping).
Day 2: Machame Hut to Shira Camp
Early after breakfast we leave the camp and continue with our ascent to Shira Camp (3840 masl) for hot lunch. This is a 4 to 5 hours hike. After lunch you will have some rest. Later in the afternoon the Climbing manager will take you for a short hike for acclimatization and then you will get back to the camp for dinner and overnight at Shira Camp (3840 masl).
Day 3: Shira Camp to Baranco Camp
Day 3 is the longest day and it is a challenging day, too, as you may start to feel the altitude. On the other hand it is one of the best days for acclimatization. It is a day where we will ascend higher and sleep lower.
The second night on Machame route we sleep at at 3840 masl. On the third day you will ascend all the way to Lava Tower at 4600 masl where you will spend one hour or more getting lunch, and after lunch you will descend to Baranco Camp (3950 masl) for dinner and overnight.
As you see we ascend and descend for a better acclimatization of your body. This is essential for the success of the climb and for your health.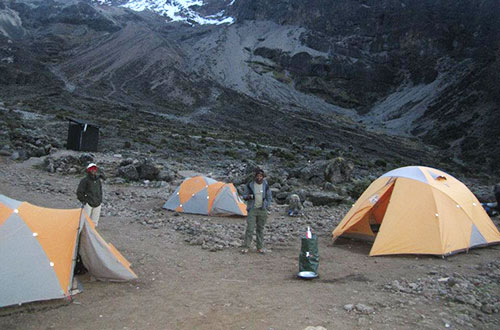 Day 4: Baranco Camp to Barafu Hut
Day 4 is also a long day if you are doing six days because you have to go all the way to the base camp and we do suggest that you start earlier than any day you have been on the mountain, and you can discuss this with your guide as well.
Day four is one of the best day one the mountain as you have the Baranco wall to climb just after breakfast and this wall is now known as Breakfast wall.
It may take you 1 to 2hours to climb this wall and once you get to the top of it you won't believe yourself, but it is true, You are moving and you can touch her (Kibo), after the wall you will have some up and down crossing some valley before reaching Karanga camp where you will stop for lunch (, But for the one who are doing seven days will overnight here and they will go up to Barafu camp the next day).For the ones who are doing six days after lunch they will continue with the ascent to Barafu Hut where they will some rest and also an early dinner because they will be doing the final ascent at midnight.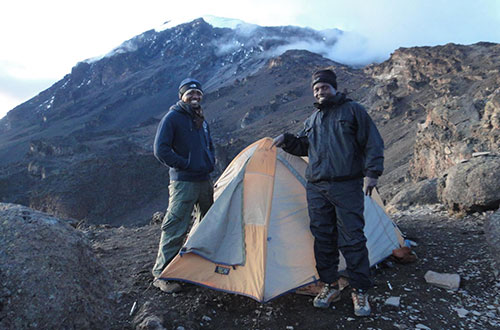 Day 5: Barafu – Uhuru Peak – Mweka Camp 
Day five start at midnight just after a cup of coffee or tea you will start your final ascent via Stella point all the way to Uhuru Peak (5895 masl) called The Roof of Africa. This may take six to seven hours, which means you may get there for the sunrise.
Note that you Climbing manager will be the one to make the decision about how much time we stay at the Summit. It depends on how your health conditions are – remember our
number one concern is YOUR SAFETY. And the decision is not negotiable.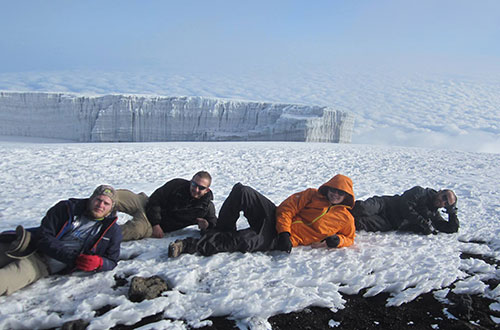 "What goes Up…, Must Come Down"
Once you reach the top of any mountain it means that you are half way of the climb. 😉 We will descend down the same way we came up – from Uhuru Peak via Stella Point and as always let your guide lead your way.
Once we get back from the Summit (Uhuru Peak) and reach Barafu Camp, your camp will still be there. We will have some time to take off some layers of clothes and pack our stuff. We will go to the Mess Tents to get some food/fuel and shortly after the food we will continue with the descent to Mweka camp (3100 masl) for dinner and overnight.
Day 6: Mweka Camp to Mweka Gate
After breakfast at Mweka Camp you will get time to say some farewell words to the crew members (porters, cooks, assistant guide) who made your dream come true. You may want to take photos with them.
Once you are done with that the descend will continue for about 3+ hours to Mweka Gate where your Chief Guide will take you to the check out office to sign out, and he will also collect the Certificates and handle them to the group members who made it to Uhuru Peak to proof "YES – you made it."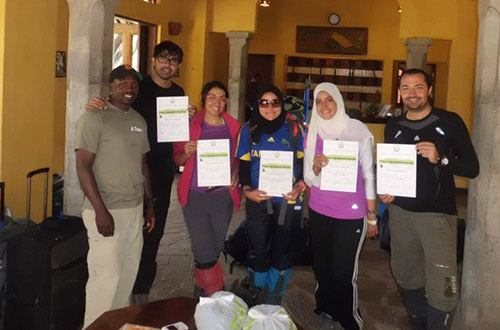 After all of that business you will get into the vehicles and your driver will drive you all the way to your hotel for a hot shower, we guess – and maybe a cold beer?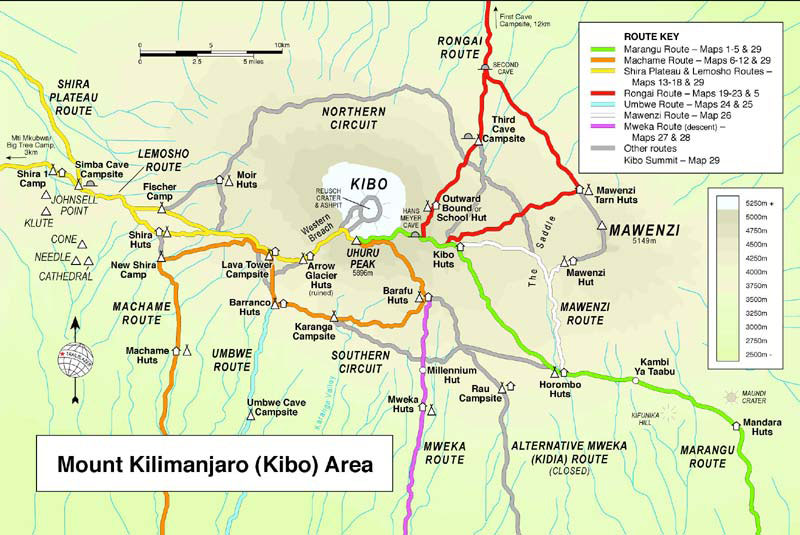 Other routes
We have long experience in climbing Mt Kilimanjaro with tourists. Godson himself have been more than 200 times on the top. The iteneraries on this website are examples. We organize other routes on climbing Kilimanjaro like Lemosho Route, Umbwe Route, and Rongai Route. It all depends on your choice and capabilities. Contact us for a discussion about your plans.