Ngorongoro Crater, Serengeti National Park, Tarangire National Park and finally Zanzibar Island Beach
Tanzania Safari & Zanzibar Island Beach Vacation:
Experience an exciting of Tanzanian safaris. Take in the wonders of the amazing Ngorongoro Crater, the world famous Serengeti National Park, Tarangire gigantic Baobab trees and huge elephant populations. You'll be living the high life in comfortable accommodation deep in the bush, staying in large rooms with private verandas and full en-suite facilities, as well as small lodges, such as the fabulous lodge located on the rim of Ngorongoro Crater. Finally, you will unwind your holidays on Zanzibar Island Beach are relaxing.
Day 1: Arrival at Kilimanjaro International Airport or Arusha Airport:
Upon arrival you will be met at the Kilimanjaro International Airport by Godson Adventures-plains2peaks Transfer driver who will  drive you to your Accommodation in  Arusha town. After being taken to your hotel, our safari Briefer  will come and meet you for a safari briefing. Whichever you choose, tonight you can sit back, enjoy your dinner and settle into the African way of life. Dinner and overnight at the Hotel/Lodge in Arusha with bed and breakfast.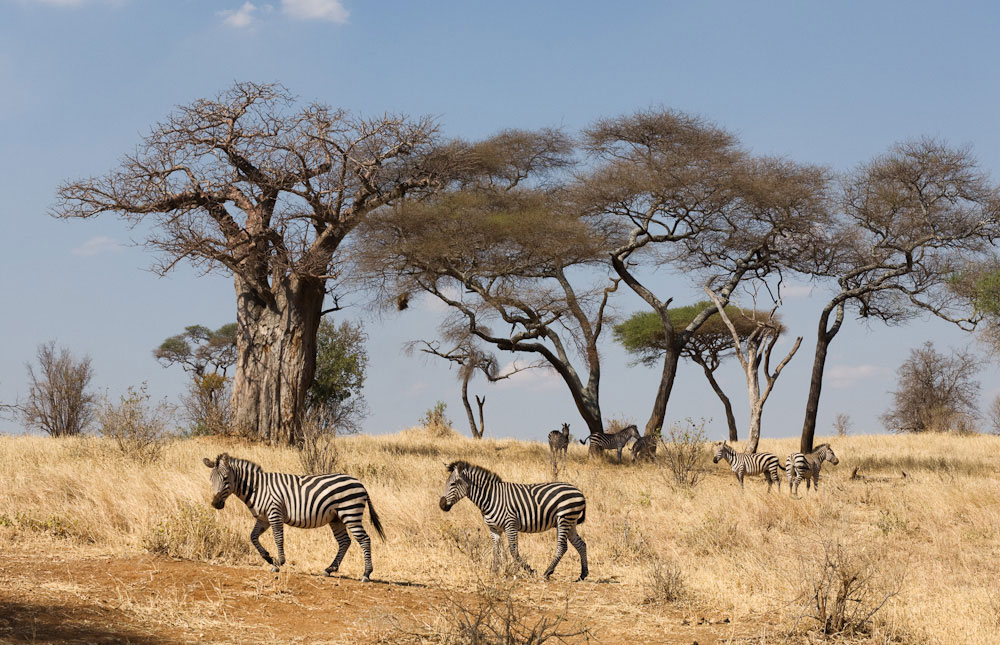 Day 2: Arusha – Tarangire National Park:
After breakfast you will depart for Tarangire National Park, Tanzania's third largest National Park and sanctuary for an unusually large elephant population. Majestic baobab trees are an interesting feature of the park, dwarfing the animals that feed beneath them. Animals concentrate along the Tarangire River, which provides the only permanent water supply in the area. There is a great diversity of wildlife including lion, leopard, and cheetah and up to six thousand elephant. Dinner and overnight at Tarangire – Tented Lodge/Campsite/Lodge.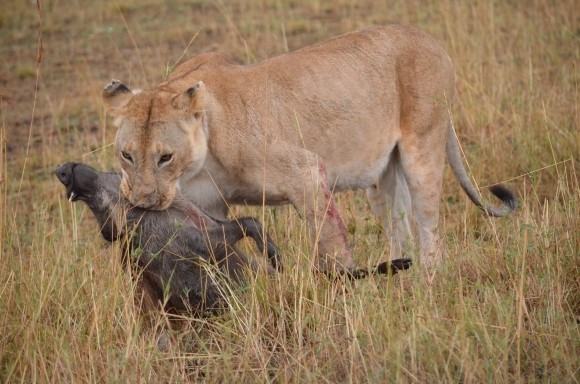 Day 3: Tarangire – Serengeti N. Park:
After breakfast you start on your way to Serengeti National Park (driving time some 4 hours, but with plenty to see on the way! Begin to understand the reason behind this name. Once you've seen enough game for the day, it will be on to your nearby lodge in time for dinner. After stopping for a picnic lunch on a kopje (rock outcropping) it will be time to head further into the park begin your game drive. You pass through green Savannah where elephants and giraffes roam, through a stretch of territory which is rarely visited by travelers, to reach the central Serengeti. The name Serengeti comes from the Maasai word, "Siringet" referring to an endless plain. As you traverse the park on the way you will stop at the Olduvai Gorge where anthropologists Louis and Mary Leakey made many significant discoveries, contributing to the theory that human life originated in Africa. En route you will see grazing zebras, antelopes and giraffes and sometimes some Buffalos hiding in the bush. The South Serengeti ecosystem belongs partly to the Serengeti National park and partly to the Ngorongoro Conservation Area.
Depending on the time of year and the migration of the herds you can expect to see wildebeest, Lions, Elephants, Giraffes, Zebras, Monkeys, Baboons, Hippos, Rhinos, Antelopes and many birds and other species. After the game drive, you will drive to your Lodge/Tented Camp/Campsite in Serengeti, where you arrive in time for your dinner. and overnight.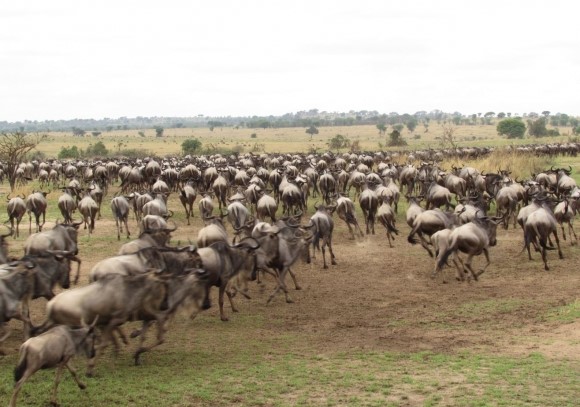 Day 4: Full Serengeti National Park:
After breakfast you will have a  full day tour at Serengeti National Park, searching for wildebeest migration including predators and prays. Dinner and overnight at Seronera central of the Serengeti – Tented Camp/Lodge/Campsite.
Day 5: Serengeti N. Park – Ngorongoro:
After the breakfast you will depart Serengeti to Ngorongoro Crater, after arrival you will descend into the Crater for a wonderful game drive (with a picnic lunch) inside the Ngorongoro Crater on World Heritage Site holding a permanent population of more than 30 000 animals. As only very few of those migrate in and out of the crater with its 2000 ft. high walls, you can expect to see lions, elephants, giraffes, zebras, hippos, flamingos, jackals, rhinos, antelopes, many birds and other species. The Crater is also home to the rare black rhino almost extinct in Tanzania. With a bit of luck you will see the 'Big Five' during one game drive. Dinner and overnight at Ngorongoro at the Lodge/Campsite.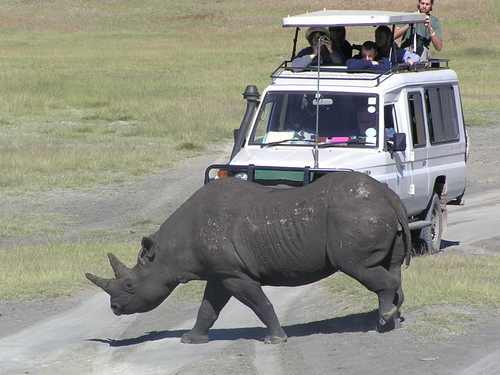 Day 6: Ngorongoro Crater- Arusha – Zanzibar Island:
Morning after breakfast from Ngorongoro Crater you will drive to Arusha Airport for your flight to Zanzibar. You will depart Arusha at 12h15 and arrive in Zanzibar at 14h20 by Coastal Aviation to the Spice Island of Zanzibar. Upon arrival in Zanzibar, you will be met at the airport with our ground tour operator and transfer you to your hotel at Kiwengwa Beach. You'll have the rest of the afternoon free to take in the amazing white sand beaches and clear blue waters of the island. Stays and overnight at Kiwengwa Beach.
Day 7/8/9: Zanzibar Beach Holidays Extension – Relax on the Beaches of Zanzibar:
Relax and enjoy the Kiwengwa beaches of Zanzibar. Do as much or little as you like. This day is totally up to you! After breakfast you will head to Stone Town, a UNESCO World Heritage Site. Along the way, you can take the famous Spice Tour, where you can get to know not only about spices, but also organically grown herbs and a detailed description about their traditional uses in medicine, cosmetics and cooking. Later on after the tour you will be invited for an opulent lunch, where you can taste these spices and some fruits. Later in the afternoon you will visit Historical Stone Town Tour. This tour takes you through the fabled Stone Town, where history appears to stand still. With visits to the House of Wonders, the Palace Museum (People's Palace) and the Arab Fort, amongst others, it is a fascinating look at the essence of Zanzibar. You will see Zanzibar's bustling markets, winding alleyways, ornately carved and studded doors, two cathedrals and countless mosques! Stays and overnight at Blue Bay Beach Resort and meals on half board basis.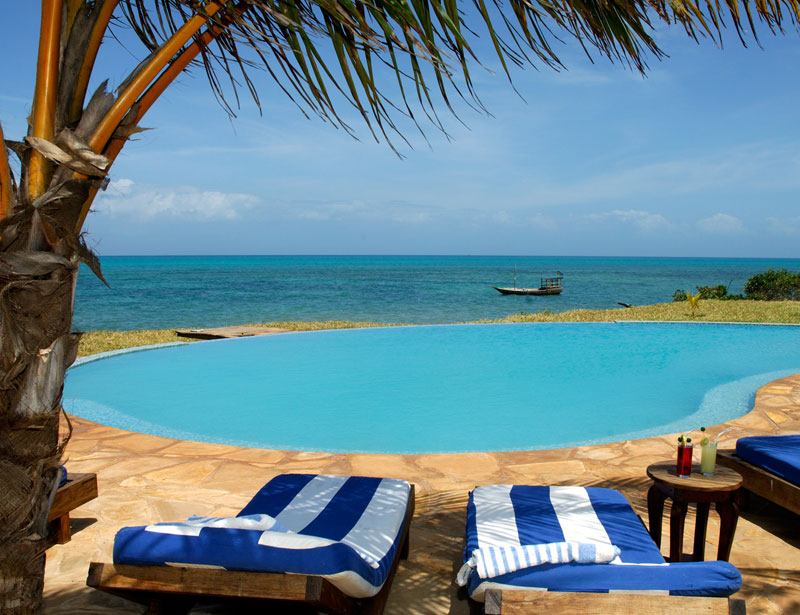 Day 10: Blue Bay Beach Resort – Zanzibar International Airport Out of Tanzania & Zanzibar Island:
Today you will have to bid a fond farewell to Tanzania and Zanzibar Island. At the appropriate time you will be taken to Zanzibar Airport for your international flight back home or to the next destination.
Price Includes:
All Park entry fees – All Park Camping fees
Pick and transfer to the Airport
Zanzibar Island Beach Holidays as mentioned on the itinerary
Transport 4×4 Toyota Land Cruiser with pop up roof with driver cum guide
Overnight at the Hotels/Lodge/Tented Camps/Campsites according to the program
Chef/Meals as per the above itinerary
Complimentary bottled of drinking water 1.5 litter per person per day during on safari
1 night free Hotel accommodation on your arrival in Arusha with bed & breakfast
Tents/Sleeping mats/Sleeping bags/Chairs/Table/Pillow.
Price doesn't include:
International flights
Fees for passport, visas, immunizations and insurance
Tips for staff such as driver cum guides/chef/porter
Expenses of personal nature (like souvenirs)
"Please note that all these are sample itineraries. We will tailor made your safari according to your wish"